Webinar
A Deep Dive into OriginPro for the Analysis of High-Resolution DGE-AUC Data
April 4, 2023
Description
Analytical ultracentrifugation has been a boon to the field of biophysical characterization for nearly a century. Sedimentation velocity (SV) AUC has emerged as a gold standard for quantifying the loading fraction of gene therapy delivery particles such as adeno-associated viruses (AAV) and liposomes.
However, boundary analysis of SV-AUC data requires specialized software such as Sedfit* or UltraScan*. Density gradient equilibrium (DGE) AUC is an orthogonal technique that can be conducted in the same Optima AUC instrument as SV-AUC. Moreover, DGE-AUC offers improved sensitivity and sample consumption, along with dramatically simplified analysis.

In this joint webinar with OriginLab corporation, we will introduce DGE-AUC and demonstrate simple, expert analysis of DGE-AUC data in OriginPro* software.

In this webinar you will learn:

The advantages of DGE-AUC for your characterization suite

How to start running DGE-AUC experiments on viral vectors like AAV and adenovirus (AdV)


Rapid and optimal workflows for analyzing DGE-AUC data in OriginPro* including importing, peak fitting, calculations, and more
Speaker Bios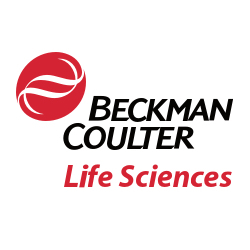 Shawn Sternisha, Ph.D.
Senior Field Applications Scientist, Beckman Coulter Life Sciences
Shawn Sternisha is currently a Senior Field Applications Scientist in the Biotechnology Business Unit at Beckman Coulter Life Sciences where he is primarily focused on the development of novel preparative and analytical ultracentrifuge applications. Shawn also supports market activities across all centrifugation product lines and is responsible for KOL and partnership management. Shawn attended Illinois State University for his undergraduate studies and went on to earn his Ph.D. in Biochemistry at Florida State University. Shawn is broadly interested in cell and gene therapy, extracellular vesicles, enzyme structure-function relationships, and expanding applications of ultracentrifugation. Shawn currently resides in Miami, FL with his wife Patty and their dog Ruby. In his free time, he enjoys cooking, running, traveling, and learning Spanish.

Easwar R. Iyer
Product Manager, OriginLab Corporation
Easwar joined OriginLab in 1998 as Staff Scientist. He is currently Product Manager for Origin software. His duties include working with the user community to generate ideas for expanding and improving Origin, translating those user requirements to specific goals for the development team, working on field-specific applications for extending functionality of Origin to new fields of science and engineering, and providing technical webinars and product demonstrations to customer sites.
*Third-party analysis software, including Ultrascan, Sedfit and OriginPro, has not been validated by Beckman Coulter Life Sciences for use with the Analytical Ultracentrifuge. Beckman Coulter Life Sciences does not endorse any third-party analyses software. Beckman Coulter Life Sciences warranty and/or performance guarantee that may be applicable or are provided by Beckman Coulter Life Sciences for Analytical Ultracentrifuge do not apply to any third-party software.